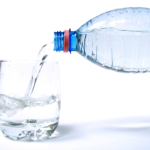 This new year we're giving up our long list of lofty resolutions for one single goal: drink more water. The recommended eight 8-oz. glasses of water a day sounds easily achievable, but do a quick survey of friends and colleagues and you'll see that most people don't hit that mark.
The human body is composed of about 60% water. Water consumption is necessary to maintain bodily functions such as digestion, absorption, circulation, creation of saliva, transportation of nutrients, and maintenance of body temperature.  Water also helps to energize muscles and fight fatigue. Knowing that water is a necessity for our bodies should be enough to get us to consume it, but its proven not to be as simple as that. To help us achieve our New Year goal here's a list of 5 tips and tools to help us to drink more water.
5 Tips and Tools To Drinking More Water
1. Tip: Keep a bottle of water with you in your car, at your desk, or in your bag. By having quick and instant access to water you are more likely to drink more water than if you have to deliberately go and get water.
2. Tool: For those who find themselves thirsty in the middle of the night but don't feel like getting out of bed. Keep a bedside carafe (with a lid that doubles as a cup) to quench your thirst in the middle of the night. Our pick here.
3. Tool: For those forgetful folks that forget to take the time to drink, you're in luck because there's an app for that. The Water Drink Reminder app for smartphones reminds you to drink water every day to keep you hydrated. By entering in your stats the app will send you notifications on how much water to consume and reminders to drink throughout the day. Our favorite app here.
4. Tip: Choose a water beverage that most suits your liking. If you prefer drinking sparkling water to still or water with a squeeze of lemon to plain water that's fine; as long as you're consuming eight 8-oz. glasses a day it doesn't matter how you take your water.
5. Tool: If sparkling water is "your thing", why not invest in a sparkling water maker? Our pick here. Do you prefer infused water? Try this water bottle infuser here.