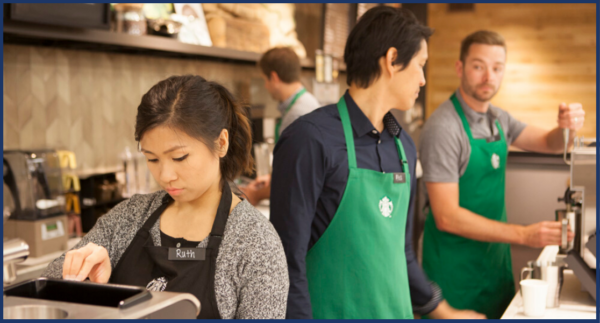 On Monday, June 16th, 2014 Starbucks President and CEO Howard Schultz, and Arizona State University President, Michael Crow, announced the Starbucks College Achievement Plan.
With this plan, Starbucks will provide a free online college education through Arizona State University to thousands of its workers, without requiring that they remain with the company.
This program is open to any of the company's 135,000 U.S. employees, provided they work at least 20 hours per week and have the grades and test scores to gain admission to ASU.
For a barista with at least two years of college credit, the company will pay full tuition; for a barista with fewer credits, it will pay part of the cost, but even for many of them the courses will be free with government and university aid.
Students may choose from more than 40 undergraduate degree programs such as electrical engineering, education, business, and retail management.
In addition to the financial support, the program also includes dedicated enrollment coaches, financial aid counselors, and academic advisors to support students through graduation.

The Reason Behind Starbucks College Achievement Plan
Why has Starbucks chosen to do this you ask? CEO Howard Schultz said that the benefit fits into Starbucks' goal of being a "company with a conscience"
The company says that in its employee surveys some of the most compelling results are about higher education. 7% of Starbucks employees do not have a degree but want to earn one; some have never gone to college, some have gone but dropped out, and others are in school, but have found it slow going.
"In the last few years, we have seen the fracturing of the American Dream," said Schultz. "There is no doubt, the inequality within the country has created a situation where many Americans are being left behind."
He continued, "The question for all of us is, should we accept that, or should we try and do something about it. Supporting our partners' ambitions is the very best investment Starbucks can make. Everyone who works as hard as our partners do should have the opportunity to complete college, while balancing work, school, and their personal lives."
Critics often bring up the point that with degrees in hand, workers may then leave for better paying jobs.
Schultz responded that "it would be accredited to our brand, our reputation and our business." Shultz believes that it will "lower attrition, it'll increase performance, it'll attract and retain better people."
Arizona State University's Reason Behind The Starbucks College Partnership
As for Arizona State University's take on the why, "ASU is pioneering a new university model focused on inclusivity and degree completion, and Starbucks is establishing a new precedent for the responsibility and role of a public company that leads through the lens of humanity and supports its partners' life goals with access to education," said Michael Crow, President of ASU.
ASU is preparing for a major surge in enrollment. Tuition for ASU's online undergraduate courses is usually about $500 per credit, and it takes 120 credits to earn a bachelor's degree.
Arizona State University currently has one of the largest online degree programs in the United States, with 11,000 students and 40 undergraduate programs, and is considered one of the most highly regarded.
Conclusion
This is a ground-breaking model and partnership for Starbucks and Arizona State University.
Hopefully many more companies will follow in the footsteps of Starbucks and make healthy investments in their employees, which will better and strengthen everyone involved.