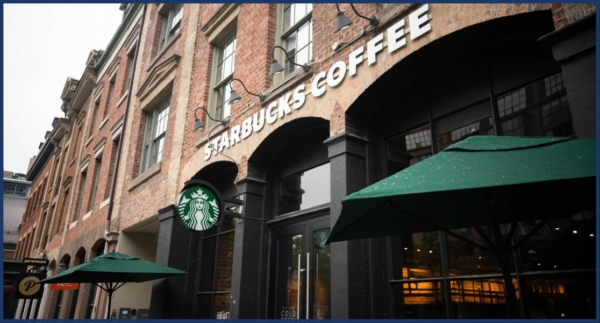 A Starbucks location can have a huge affect on the neighborhoods that surround them. This is known as the "Starbucks effect".
If you see a new Starbucks, or similar high-priced competitor store pop up in your neighborhood, rest assured it's a positive symptom of thriving real estate values.  How do we know?
Well, Zillow conducted research and found out the details. Continue reading below.

The Starbucks Effect on Local Real Estate and Property Values
"Starbucks Effect" is the created term to describe the phenomena of how a Starbucks store opening increases home and property values. A new Starbucks gives a sense to developers that the neighborhood is on the rise.
Real estate research group Zillow has conducted much research on the Starbucks Effect and have determined that the value of property within a quarter-mile of a Starbucks rise faster than those that aren't.
More specifically, the data shows that between 1997 and 2014, properties closer to the coffee shop increased in value by 96%, compared to 65% for all U.S. residential properties. Five markets that saw the biggest effect was Boston, Philadelphia, Washington D.C., Chicago, and Baltimore.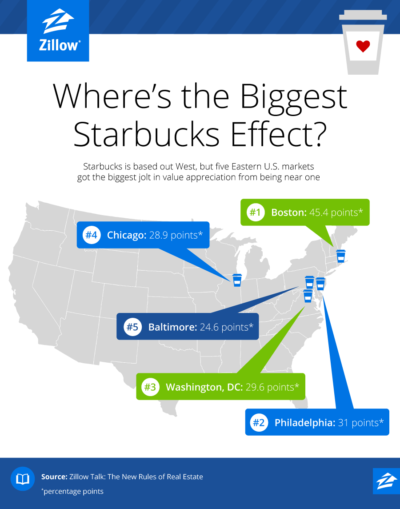 This finding is based on a comparison of Zillow Home Value Index data with a database of Starbucks locations. And, while its true that properties near these retail locations tend to start out more expensive, these properties have proven to appreciate at a faster rate than US housing on the whole.
How Does the Retail Giant Stay Ahead of the Curve?
Starbucks has fine-tuned their ability to get ahead of the neighborhood curve by successfully identifying the demographic, income, and economic metrics and trends that drive residents towards copious sales of elevated-priced coffee.
When it comes to choosing retail locations, the Starbucks team explains that while they have a team of 20 analytics experts around the world.
These experts pore over maps and geographic information systems data. They assess factors like an area's traffic patterns and businesses, the company also empowers dozens of regional teams to come to their own conclusions about location, store design, and a host of other factors.

In order for Starbucks to maintain its competitive advantage and franchise value, it is imperative that it continually finds the next optimal store location and position itself as "first mover" in order to capture and maximize local market share before its competitors can get on the ground.
How Other Retailers Affect Nearby Property Values
However, Starbucks is not completely alone in this "Effect" – Zillow research also shows that properties near specialty grocery stores, like Whole Foods and Trader Joes, appreciate faster. Zillow claims that properties within 1 mile of these stores were actually worth double the value of properties that were farther away.
Between 1997 and 2014, residential properties near the two grocery chains were consistently worth more than the median U.S. property. And by the end of 2014, properties within a mile of either store were worth more than twice as much as the median home in the rest of the country.
Trader Joe's locations are focused in areas where people have access to good education, and many amenities in the area as other desirable stores. Having these stores in such areas may increase traffic into the areas, which could potentially encourage people to want to live near those stores.
It is important to keep in mind that upscale retail stores tend to be in more affluent communities, and that's where the resale values are higher, but the overall "Starbucks Effect" is surely valid.

Sign Up For Our Newsletter
Did you find this article insightful? Please share and sign up for our newsletter to receive more real estate articles.