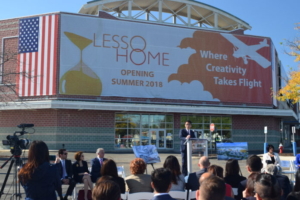 On Thursday, October 26, Hong Kong-based China Lesso Group Holdings announced plans to transform the former Source Mall in Westbury into an exciting new home furnishing expo center called Lesso Home.
Opening its doors summer of 2018, Lesso Home is a home furnishings, décor and design company with a unique industry showroom and retail experience.  This will be Lesso's first New York location with other operations in Los Angeles, California, Texas, and the Midwest.

Details About The New Lesso Home
The new complex will feature a family-friendly environment that introduces visitors to a broad range of attractions that cater to their needs with plans to turn roughly half of the mall into showrooms for international manufacturers of home furnishings, décor and design items, and a co-working center for local designers.  The mall will also feature a food and beverage area, a children's fun center, a business conference center and Lesso's regional corporate headquarters.  A "town square" will also be added for community events, live entertainment and other attractions.  The renovations and transformation of the 521,486-square-foot mall and the connected 208,000-square-foot former Fortunoff department store is estimated to cost $25 million.
Lesso Mall Development purchased the mall, which is now mostly vacant, for $92 million at the end of May 2017.  Several of the tenants that were part of the former Source Mall will be retained in this new venture, including Fortunoff Fine Jewelry, Fortunoff Backyard Store, The Cheesecake Factory, Dave & Busters and others.
Acknowledging that the retail industry in America is facing challenges presented by the growing influence of online retailers, Lesso executives understand the need for dynamic concepts when it comes to retail, and they will be providing just that.

About Lesso Group Holdings
Lesso group holdings is a large industrial group of home building materials.  The range of products and services cover plumbing, doors and windows, kitchen equipment, and other household necessities. Due to its rapid development, Lesso has more than fifty holding subsidiaries and more than 22 production bases distributed in 16 provinces of China, US, Canada, India, Indonesia, and Uganda.
Photo credit: Long Island Press