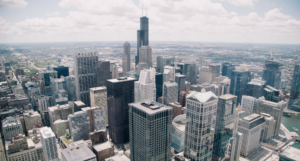 Amazon announced a  shortlist of cities for its second headquarters on Thursday, January 18th, 2018. This announcement comes after months of discussion, and speculation regarding the city of choice for the e-commerce giant.
In the past, major cities such as New York (New York), Atlanta (Georgia), Chicago (Illinois), Dallas (Texas), and Kansas City (Missouri) have been announced as viable options for the secondary headquarters. In addition, there have been months of bids from cities such as Tucson (Arizona), Amazon (Georgia), and others in an attempt to win the multi-billion dollar corporation's interest. After much debate and speculation, here are the top 20 choices for Amazon's second headquarters.

Amazon's Second Headquarters City Finalists
Atlanta, Georgia

Austin, Texas

Boston, Massachusetts

Chicago, Illinois

Columbus, Ohio

Dallas, Texas

Denver, Colorado

Indianapolis, Indiana

Los Angeles, California

Miami, Florida

Montgomery County, Maryland

Nashville, Tennessee

Newark, New Jersey

New York, New York

Northern Virginia, Virginia

Philadelphia, Pennsylvania

Pittsburgh, Pennsylvania

Raleigh, North Carolina

Toronto, Canada

Washington D.C
Many of these city finalists aren't surprising to various business and financial experts. Initially, Amazon's location criteria and attributes were; stable and business-friendly, over 1 million residents, and a location with the potential to attract and retain strong technical talent. In addition, this city had to be in close proximity to a major airport hub, have manageable commute systems, and contain colleges and universities with the intention of bringing future Amazon employees. Lastly, the ideal city of choice needed to have a diverse mix of demographics. This criteria narrowed down the choice of possible cities to roughly 21 metropolitan areas in the United States.

Once the new location is finalized, the Seattle based company plans to invest up to $5 billion in development and create 50,000 new jobs in its second hub. Needless to say, with such huge investment and employment potential, the intensive bid to win the location for Amazon's second headquarters will continue among the top 20 city finalists.