On Friday, June 16th Amazon announced that the company had a deal in place to buy Whole Foods Market for $13.7 billion at a price of $42 a share.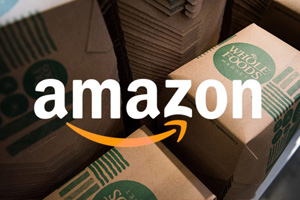 The Deal
The 13.7-billion-dollar deal, easily the largest by Amazon, will pay $42 per share in an all-cash deal.  That's 27% higher than Whole Foods' closing stock price of $33.06 the day the deal was announced.  Despite the uncertain specifics of the plan once acquired, investors applauded the acquisition and shares of Amazon rose 2.4% to $987.60 the next day.  The deal requires approval by Whole Foods' shareholders and regulators.  The companies expect the deal to be completed in the second half of 2017.  Amazon will have to pay Whole Foods $400 million if the deal is not completed.
"Millions of people love Whole Foods Market because they offer the best natural and organic foods, and they make it fun to eat healthy," Amazon CEO Jeff Bezos said in a statement.  "Whole Foods Market has been satisfying, delighting and nourishing customers for nearly four decades – they're doing an amazing job and we want that to continue."  John Mackey, Whole Foods co-founder and CEO, said he agreed to the deal because it is "an opportunity to maximize value" for the company's shareholders.  He will remain the company's CEO.  Whole Foods Market will keep its brand name and remain headquartered in Austin.
What's Next?
Acquiring Whole Foods, with its 450 stores nationwide, represents a dramatic departure from Amazon's early business model founded on online retailing and related technology.
Amazon's offer to buy Whole Foods Market could introduce a new phase of retail, with the potential for hybrid stores and an increasingly transparent sense of where goods come from and how they get to consumers.  In buying Whole Foods, Amazon suddenly comes into more than 450 physical stores in prime retail locations among upscale buyers.  Amazon understands that the physical piece is key.
A clear majority of supermarket customers still want to see, touch, and smell what they buy.  Researchers found that even among people who buy groceries online, 74% of their food dollars are spent in brick-and-mortar stores.
Amazon has been testing the waters in brick-and-mortar operations over the past several years as it looks to increase its market share by being where its customers want, in whatever form they want.  In the grocery realm, Amazon has opened two "click and collect" stores in Seattle where customers can order online and then drive through to have their groceries loaded directly into their cars at a predetermined time.
There's been a lot of talk about what's next for Amazon and Whole Foods Markets.  What analysts don't expect to see is Amazon closing a lot of Whole Foods buildings in order to create what are known as "dark stores."  These are supermarket item fulfillment centers specifically organized to make picking customer orders efficient but not open to customers.  That would be a waste of prime real estate.  Amazon could do a lot with that real estate, finding ways to give customers options without having to turn stores into mini-fulfillment distribution centers.