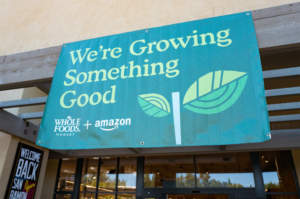 In Amazon's first quarterly report since closing on the acquisition of Whole Foods Market Inc., they reported third-quarter net income of $265 million, on sales of $43.7 billion, up from $32.7 billion a year ago.  In the third quarter report, Amazon's producing profits and sales far exceeded expectations of Wall Street with a 34% rise in sales.
 It was obvious from the day the online retailer completed its acquisition of Whole Foods Market that the company had big plans but most of those plans were just speculation – until now.  On a conference call to discuss third quarter results, Chief Financial Officer Brian Olsavsky gave some insight into what Amazon's plans just may be.

Amazon CFO on Future Plans
" I will say we do see a lot of opportunity with Whole Foods. As I said, there'll be a lot of work together between Prime Now, AmazonFresh, Whole Foods, Whole Foods products on the Amazon site, Amazon Lockers at the Whole Foods stores. So, there'll be a lot of integration, a lot of touch points and a lot of working together as we go forward. And we think we'll be also developing new store formats and everything else just as we talked about in the past before Whole Foods: Amazon Books stores, Amazon Go, and the opportunity that that technology presents. We have on-campus bookstores.
So, we are experimenting with a lot of formats. I think that Whole Foods really gives us a, you know, vast head start on that and a great base. And a great team to work with who has a lot of history and a lot of—they probably have 10 to 20 years of learning that we don't have and wouldn't have. So, we're really excited about that and I think working together, will bring our different strengths to the table and really be able to build on behalf of customers."

It is an exciting time for Amazon as they explore brick-and-mortar to take experiential retail to the next level.  Whole Foods will be where online meets offline for Amazon and its consumers, merging a variety of Amazon fulfillment and delivery operations with in-store experiences.