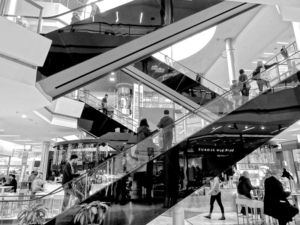 As more and more consumers choose to seek out and invest in experiences rather than products, many retailers are responding to meet the needs of their customers by providing a personalized and customized retail experience. Consumers don't want to just walk into a shop, buy a product and leave; they could do this from the comfort of their own home. But by creating a more immersive retail experience, retailers can drive people towards their stores and ensure they leave not just with products but also memories.  This is called Experiential Retail.
The experiential retail technique is doing nothing less than revolutionizing how people shop for, learn about and interact with products.  Many of today's consumers research products and services extensively online, which means they don't require traditional customer service. Instead, when they enter stores, they seek hands-on activities and stimulation.

Today's most successful retailers master the art of experiential design in order to meet the evolving expectations of today's shoppers.  Experiential retailing boils down to creating pleasant, memorable, interactive experiences that appeal to all five senses. It also requires a deep understanding of the shopper's journey, in order to integrate strategies across marketing channels.  There are five consistent underlying elements that retailers are using to ensure a remarkable customer experience.
How Experiential Retail Optimizes the Customer Experience
Interactiveness: ensuring that the senses are connected – memories of what we feel, hear, see, smell, and touch, may last a lifetime.
Originality: ideas that are authentic and special, making the consumer feel as if they have entered a different world.
Connectedness: consumers must feel that the experience has been created for them. This can be done through the design of products targeted at customers' niche tastes.
Unexpectedness: unique experiences are critical to ensuring that a brand is remembered.
Reliability: the experience must be executed through tested methods to achieve consistency and excellence. This is to ensure that the in-store experience strives and is properly executed.

Experiential retail allows consumers to get to know brands well. When they're impressed by a company's displays or activities, they're more likely to buy things from it in person or online. And such experiences can make consumers feel more loyal to a certain brand. In that way, experiential retail represents a powerful form of advertising.
Retailers know that it's important to give customers a memorable experience in an immersive, dynamic environment by changing the physical spaces constantly to give customers something fresh and new.  These experiences don't have to be a permanent feature of a store in order to make an impact on customers.  Creating an in-store event or happening gives customers an unforgettable and immersive experience they are unlikely to forget in a hurry.  And, given that many people now make many of their purchases via the Internet, stores don't need to have as many products in stock as in years past. Thus, they can feel free to devote more space to personalized experiences and storytelling in order to immerse customers in fun environments.