---
During the months of September and October, we've witnessed new store openings and changes on Long Island. Changes include Stop & Shop's massive makeover to 21 locations, new store openings and more.
At American Investment Properties we're always paying attention to the latest trends on Long Island, and giving you the details you need to know. Have a look below at recent store openings and changes to the retail market.

Stop & Shop's Massive Makeover
Stop & Shop, the supermarket giant in talks to purchase King Kullen, has invested $133 million to makeover 21 stores in Suffolk County. The upgraded stores re-opened on Friday, September 13th 2019. These new stores boast a brand new customer experience.
Upgrades of the Stop & Shop Makeover
Included in this $133 million rehaul are brand new stores for "Stop & Shoppers". There is an expanded produce section, with more variety in organic items. This includes local Long Island grown corn, tomatoes, and squash.
There are new food stations. These food stations include stir fry stations, sushi bars, hot bars, and certain meats.
Also, there are in-store cafes that cater to the beer lovers. Local craft beers such as Montauk Ale and South Hampton Brewing are an option at these cafes.
At selected stores there are new innovations such as interactive beer kiosks. These kiosks help customers find the best beer-food combination for their liking.
The Stop & Shop locations feature an Italian specialty section with olive oil, and vinegar containers (fustis). They also allow shoppers the ability to fill their own bottles.
Also at the specialty section, shoppers can find various types of pasta, specialty cheeses, and more.
As a result of the makeover, shoppers will find strategic placements of cold cases containing food packages – next to the checkout counters. These food packages include common items such as milk, bread, butter, and eggs.
This is a huge convenience for shoppers because they can grab the essentials without walking around the entire store.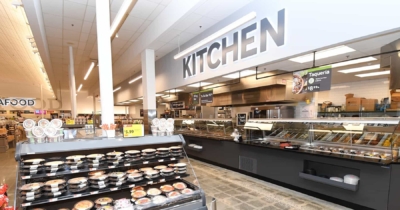 Technological Advancements to Increase the Customer Experience
Stop & Shop features its "SCAN IT!" mobile app at these new locations. Customers can scan and bag items as they shop around, then scan a bar code at checkout to buy the items.
The new stores stores also offer same-day online grocery pickup. Customers can place orders through Peapod.com and pick up their groceries a few hours later.
Words from the Stop & Shop President, Gordon Reid
"The remodeling of our Long Island stores is a key milestone in our journey to refresh the Stop & Shop brand for the future and to strengthen our position as market leaders," Stop & Shop President Gordon Reid said in a statement.
He added, "we're excited for local customers to enjoy the changes we've brought to Long Island like even more fresh produce, lower prices and new solutions to help make things easy for our customers get their shopping done and get back to what matters most."
More Recent Store Openings & Changes on Long Island
1. Taco Bay Restaurant Set to Open in Oyster Bay, New York
Here's another great reason to visit Oyster Bay – Taco Bay.

Taco Bay is founded by Chef Peter Van Der Mije, the owner of Osteria Leana.
The focus of the restaurant is to keep options simple. They're only offering 5 to 6 filling options, along with its combined sides.
Visitors can choose from burritos, pupusas, soft or hard tacos, and salads.
Chef Mije is a huge supporter of local ingredients, partnering with local farms such as Youngs Farm, Orkestai Farms, Rottkamp Farms, and others.
For drinks, the location is offering beer, wine, punch, and CBD-infused sparkling water.
According to their press release, Taco Bay will "marry premium ingredients with meticulous technique, and passion to deliver optimal quality."
The restaurant is set to open at the beginning of October 2019 at 80 South Street, Oyster Bay, NY 11771.
2. Blink Fitness Opened in Farmingdale, New York
Blink Fitness welcomes it's 10th Long Island location in Farmingdale, New York.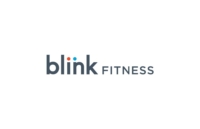 This new location, on 450 Main St., Farmingdale, NY was occupied by supermarket chain, Waldbaums. It's 13,000 square foot space sits in a shopping center next to a CVS Pharmacy and Goldfish Swim School.
Farmingdale's Blink Fitness is owned by Allen Pinero, who also opened a location in Lindenhurst last year.
To introduce the new gym location to the Farmingdale community, Pinero is donating 30 memberships.
These memberships will go to local organizations including the American Foundation for Suicide Prevention – Long Island Chapter, and the Farmingdale Council of PTAs.
Blink Fitness' other Long Island locations include Brentwood, Hicksville, Valley Stream, West Islip, Selden, Melville, Lindenhurst, Islandia, and Baldwin.
3. Atomic Wings Opened in Bellerose, New York
Atomic Wings, an all-natural wings spot, has opened at the end of September 2019. This new location is on Jericho Tpke, replacing the Mexican grill which occupied the space.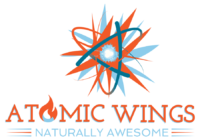 This Bellerose location is the fourth on Long Island for Atomic Wings. The other locations are in Franklin Square, Freeport, and Westhampton Beach.
According to their website, Atomic Wings began when founder, Adam Lippin, couldn't find the "hot crispy wings that he savored during his college years in Buffalo." He spent years perfecting his recipe and opened the first location in 1989, in New York City.
Atomic Wings advertises all-natural (antibiotic and hormone free) chicken wings. Also, most of their proprietary sauces being gluten free.
Atomic Wings location: 250-36 Jericho Turnpike, Bellerose, New York 11001
4. Red Lobster Opened 7th Long Island Restaurant in Deer Park, New York
The seafood chain restaurant everyone loves, has opened it's 7th Long Island restaurant in mid September.
Red Lobster took over a freestanding building in Tanger Outlets. The location was occupied by Joe's Crab Shack. The new restaurant boasts around 8,000 square feet, and the ability to accommodate 245 diners at 51 tables.
This location features Red Lobster's redesigned concept, including a lighter color scheme, lounge seats, contemporary bar, USB charging stations, and pay-at-the table kiosks.
During seasons with favorable conditions, the location has a patio room with roll-down windows with the ability to be opened.
The company was looking for further opportunities on Long Island when this vacancy arose.
"It's such a busy mall, and it's beautiful and well-run, and Joe's Crab Shack was leaving," said Dan Locke, Director of Operations, Northeast Division. "Long Island has been a great market for us."
5. 317 Main Street Opens in Farmingdale, New York
Two time "Chopped" Champion, Chef Eric LeVine, is bringing the talent and taste to Farmingdale. LeVine is the executive chef and a partner of the restaurant, which is co-owned by Joe Fortuna.
The restaurant features a gastropub-influenced menu, and offers lunch, dinner, and weekend brunch. LeVine aims to make 317 Main Street different than other restaurants on Long Island, weaving local cuisine into an American Grill.
The restaurant promises to provide an unforgettable experience. You can reserve a seat at the Chef's Table (up to eight guests), giving you an opportunity to directly interact with Chef LeVine and experience the kitchen.
Additionally, the eatery has a craft cocktail bar, cooking events, comedy nights, live music, private tasting menu, and beer/whiskey dinner pairings.
6. Osteria Morini Opens in Roosevelt Field, Garden City, New York
Owner of 18 restaurants worldwide, Michael White is threading the needle at Osteria Morini. The Italian restaurant opened in Garden City's Roosevelt Field Mall in mid October.
Osteria Morini places a special focus on Italy's Emilia-Romagna region, or "the bread basket of Italy" as Michael White referred to it. Chef White decided on the Emilia-Romagna region because it's the birthplace of prosciutto, Parmesan cheese, balsamic vinegar, and other ingredients that largely make up Italian food.
To cater to Long Islanders, Chef white made a tweak to his pasta dishes. He's increased the sizes of portions because he knows Long Islanders "like to take a little pasta home with them."
The 5,000 square foot restaurant can accommodate up to 200 diners in two rooms and a bar. There are an additional two rooms for private events. Osteria Morini encompasses a rustic style, with white imported vintage timbers from Italy for the ceilings.
Osteria Morini is currently only open for dinner, but it is slated to open for lunch and brunch in a few weeks.
Sign Up For Our Newsletter
Stay updated on the latest store openings and changes on Long Island. Sign up for our Newsletter.