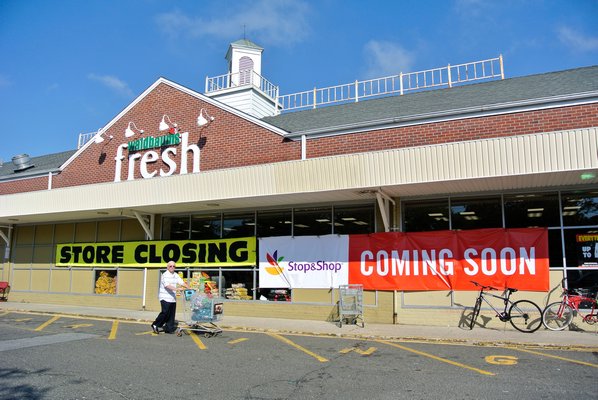 Supermarket operator, Great Atlantic & Pacific Tea Co., which used to operate 296 stores in the Northeast under the brand names A&P, Best Cellars, Food Basics, The Food Emporium, Pathmark, Superfresh and Waldbaum's, has filed for bankruptcy and ceased operations.
When did Waldbaum's Close?
Waldbaum's officially closed its stores in July 2015. This filing directly affected Long Island's 32 Waldbaum's stores and 19 Pathmark stores.  These Long Island supermarkets were either: sold, closed, or auctioned off by November 2015.

What Happened to The Closed Locations?
To this day, many of the closed or auctioned locations remain vacant without any plans to fit them. Here's what became of the Waldbaum's and Pathmarks that closed.
For one New York City Pathmark store, after many years of staying vacant, is now back open to the public. Learn more about this possible Pathmark come back.
How Employment Was Affected by Store Closings
With the sales acquisitions, closings, and auctions of these stores, around 4,000 Long Island jobs were be disturbed, a total of around 11,000 for the Northeast, which potentially left employees out of work.
Stop & Shop and Acme Markets, which have acquired through sale or auction most of Great Atlantic & Pacific Tea Co.'s supermarkets, likely hired from the existing workforce.
Stop & Shop and Acme Markets reached labor agreements with the union representing workers helping them to keep many or most of those workers employed, protecting wages and benefits.

Sold Waldbaum's & Pathmark Locations
In bankruptcy court, Great Atlantic & Pacific Tea Co. gained approval and sold 95 of its stores for a total of $370 Million, including 16 stores on Long Island.
The Waldbaum's stores approved and sold include:
Albertson
Melville
East Hampton
Glen Head
Long Beach
And Others
The Pathmark stores approved and sold include:
Seaford
New Hyde Park
Greenvale
Bethpage
Baldwin
Port Jefferson
And Others
As for the buyers, 71 A&P stores was sold to Acme Markets Inc. for $246 Million, 24 stores sold to Stop & Shop Supermarket Co. for $124 Million, and also Key Food Stores acquired 17 stores.

More Information on Waldbaum's & Pathmark Stores
The Waldbaum's and Pathmark stores that Stop & Shop acquired include East Hampton, Southampton, Baldwin, Massapequa, Long Beach, Huntington, as well as others.
Regarding store closings, Great Atlantic & Pacific Tea Co. closed a total of 25 stores, which includes 5 Long Island locations.
These were all Waldbaum's stores in:
Carle Place
Riverhead
Centereach
Baldwin
Oceanside
Great Atlantic & Pacific Tea Co. allowed the locations to remain fully stocked until they closed and the stores continued to honor existing customer promotional and loyalty programs.
Closed Walbaum's Store Auctioned, Here are The Results
As for store auctions, only one in three Great Atlantic & Pacific Tea Co. stores that went up for auction came back with bids.  The filing did not reveal prices of the stores that were bid on.
Of the 128 stores in the first auction (30 Long Island stores), 36 received winning bids, and were approved by the court to divide the base among 21 entities including supermarkets, landlords, and other investors.
The remaining stores, which either received no bids or offers that didn't meet the minimum threshold, went a second auction.  From the auction, Key Food Stores gained 8 new locations; Compare Foods also had winning bids.
Long Island stores that went up for auction include Waldbaum's stores in:
Commack
Stony Brook
Mattituck
East Setauket
West Hampton
Massapequa
Ands others
Pathmark stores include:
North Babylon
Islip
Bay Shore
Massapequa
East Rockaway
And others.
About The Waldbaums Supermarket Chain
Waldbaum's was a supermarket chain with locations in the boroughs of New York City including; Brooklyn, Queens, Staten Island, and the Bronx.
Additionally, there were locations on Long Island's Nassau and Suffolk Counties, Upstate New York, New Jersey, Connecticut, and Massachusetts.
At its peak in the 1980s, it was the 12th largest supermarket in the United States.