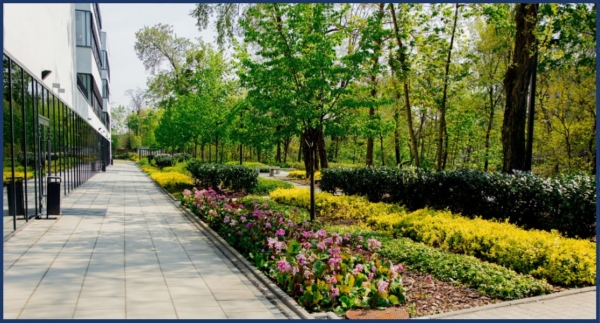 Spring is finally here! That means warmer weather, blooming flowers, and more outdoor activities. But for your commercial property, it means a responsible maintenance check and cleaning after the winter season.
Though this winter season did not see the typical freezing and snowstorms, it's still important you complete your spring maintenance checklist. Here are 5 spring tips for you to follow.

Spring Tips & Maintenance For Your Commercial Property
1. Assess For Winter Weather Damage
The cold temperatures, snow, ice, and salt can cause damage to any exposed structures. It's important to check the exterior of your building.
Look for cracks in the wall, and in the piping or plumbing. Also, check your roof for missing shingles or cracks and leaks.
In addition to the property structure, you must pay attention to any sidewalks, walkways, or lots on your property. It's common for hazards like potholes, cracks, or even sinkholes to appear overnight. If neglected, these hazards can lead to damage of personal property or injuries.
2. Clear Up Debris
This is another important spring tip. Plowed snow, wind, and ice can lead to a debris buildup and a landscaping mess. Usually the snow and ice can trap trash and debris, only becoming visible after thawing out.
It's always important to pick up trash to maintain the curb appeal of your property, however, in the spring it's even more important. Debris buildup can lead to clogged drainage, gutters, and even flooding with the seasonal rainfall.
3. Maintain Your HVAC
It's suggested you check and maintain your HVAC system quarterly. Ensure your air conditioning units are in proper working condition. This way, you have some time to complete repairs before the extreme heat takes effect in the summer.
You need to replace your air filters to reduce the amount of allergens and dust. Other things to do include flushing your water heaters, testing your smoke and carbon monoxide alarms – including the sprinkler system (if you have).
4. Boost The Curb Appeal
Spring is a great time to refresh or boost the curb appeal of your commercial property. With the inclement weather of the winter season, it's likely there is dirt and grime buildup on the exterior. A quick pressure wash can clean off the dirt, and have your property looking as good as new.
If you don't already do landscaping, investing in landscaping is the way to go. Landscaping is the first impression tenants or customers see before entering your building.
A well maintained and well-placed foliage can draw the eyes of many.
Vibrant, or "loud" colored flowers can add life to otherwise dull surroundings, with the addition of trimmed bushes and lawns.
Lastly, updating the exterior signage makes another important impression for customers. A sign over 10 years old likely looks dull or outdated. Invest in an updated sign that reflects your current brand or style.

5. Hire Reliable Contractors and Specialists
Your spring checklist may be robust with many issues to fix or projects to do. You don't have to undertake all these projects on your own (even if you know how to). Take some stress off by hiring reliable and quality contractors to handle your spring projects.
It's useful to maintain or compile a list of specialists for each specific project you need completed. By hiring a specialist you ensure the work is being done with quality you need.
Conclusion
We hope these spring tips were helpful for you on maintaining your commercial property. The spring season is a time to refresh, rebuild, and revitalize your property. Bring new life into your commercial building and create a clean, well-maintained space for your tenants.
Sign up For Our Newsletter
Want to stay updated on the latest on Long Island commercial real estate? Receive the latest market reports, milestones, and commercial listings on Long Island. Sign up here.