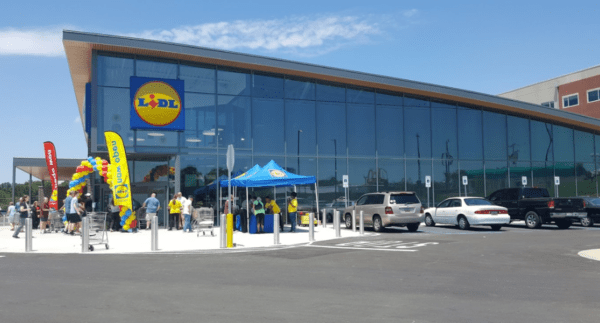 Over recent years, there's been much change to Long Island's supermarket landscape.
We reported on the closing of all A&P stores, most of which were Pathmarks, the closing of the iconic King Kullen chain with acquisition by Stop & Shop, and the expansion of six other grocer brands across the L.I. including ShopRite, Best Market, Stew Leonard's, Hmart and more.
Many of those grocer brands you're familiar with, but there's a new face on Long Island: Lidl.
Open Lidl Supermarkets Locations:
Lidl Grocery Stores Open on Long Island
Using local contractors, Lidl remodeled and converted two of its recently acquired Best Market stores, in Babylon and Huntington, while the Plainview and Center Moriches stores are new builds.
The remodeled stores are currently located in the Hubbard's Commons shopping center at 725 Sunrise Highway in West Babylon, and in Turnpike Plaza at 711 East Jericho Turnpike in Huntington Station. Both locations officially opened their doors in December 2019.
A Plainview location replaced the closed Best Market store located at 1054 Old Country Road in the Morton Village Shopping Center. The Plainview location opened on December 21st, 2019.
The Center Moriches location is in a former Waldbaum's space at 812 Montauk Highway. This Lidl store also opened in mid December 2019. These stores were "the first of several waves of openings" said Lidl US's CEO.

Lidl's Second Wave of Store Openings on Long Island
As of January 2020, Lidl announced they are slated to open another five locations this year.
The additional five locations will be in East Meadow, Oakdale, Patchogue, East Northport, and Lake Grove. The East Northport location, at 560 Larkfield Rd, is expected to open this summer.
One of these locations will be in Nassau County, and the other four will be in Suffolk County.
Lidl's Long Island Move & Best Market Acquisition
Lidl, which operates about 10,500 stores in 29 countries, is a discount grocer selling 80-90% private label brands, much like its Germany-based competitor, Aldi. Since Lidl established its U.S. headquarters in 2015 in Virginia, it has opened and operates more than 65 stores across nine east coast states.
In late November 2018, Best Market announced its finalized acquisition deal with Lidl US. This resulted in Lidl taking over, remodeling and re-branding all Best Market's 24 Long Island stores. This re-branding started in mid-2019.
This deal allows Lidl to expand its regional presence and enter a new market on Long Island, while building brand new stores as well.
What Lidl Can Bring to Long Islanders
Lidl stresses its importance of bringing simple and efficient shopping to its customers. Lidl's offerings are unique and different from a traditional grocer.
Although it doesn't offer traditional service counters, Lidl does have a fresh selection of packaged meat, seafood, and deli items. The design of the store's layouts promotes an ease-of-shopping and streamlined experience.
Some of Lidl's offerings include fresh-baked bread and pastries, exclusive private American brands that are high-quality, healthy and sustainable food choices, organic options, gluten-free options including fruit, vegetables, meat, dairy and packaged food items.
All products are available at competitively low prices, a changing selection of limited-time nonfood items on a weekly basis, including fitness gear, small kitchen appliances, toys, and outdoor furniture.
Sign Up For Our Newsletter
Stay updated on the latest news regarding Lidl and activity on Long Island. Sign up here.