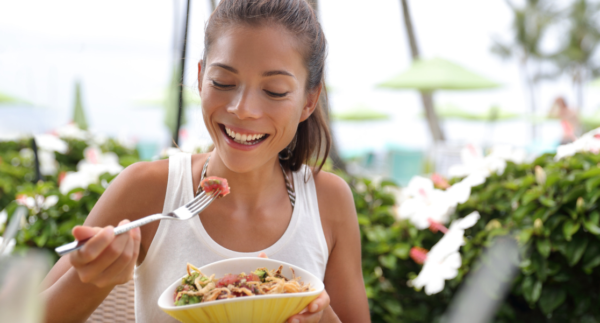 As commercial real estate brokers, it's imperative that we keep a close pulse on trends that are occurring within Long Island's retail market. Enter poke, Long Island's latest food craze taking over the region.
What is The Poke Craze?
Pronounced POH-kay, the Hawaiian word "poke" literally means "to slice or cut crosswise into pieces" and at its roots that's what this dish is: simply cut raw fish – most often tuna or salmon.
This trend can be traced centuries back to Hawaiian fish markets where shoppers could choose a freshly caught fish to be dressed with sesame oil and soy sauce and tossed with scallions and seaweed.
Once poke hit the mainland it began its transformation from plate to bowl. Now poke is served in a bowl atop a bed of white rice (or noodles), often completely customizable with anything from edamame to kale.
And no longer is the poke bowl confined to raw fish, at many of these modern trendy eateries customers can choose tofu or cooked shrimp, and sometimes even chicken or beef.

Millennials Love The Poke Craze
Like many recent food trends, the poke bowl is being driven by environmentally aware millennials who enjoy customizing quick and healthy fusion-flavored meals. Poke bowl restaurant-goers can 
customize their meal choosing a base (rice or noodles), proteins (fish, meat, tofu), and a wide variety of toppings.
Giving consumers, especially the millennial generation, a choice is what is key for this trend, allowing people to be as healthy as they want.
The poke bowl is also aesthetically pleasing; another thing millennial consumers gravitate towards in today's social media-centric world.
Emergence of Poke Restaurants in Long Island
Over a handful of entrepreneurs have already brought this rapidly growing restaurant concept to Long Island, however, we predict many more to come.
A few existing poke restaurants are: Iron Poke in Stony Brook, Kai Poke in Huntington, Shiny Coffee Healthy Poke in Hicksville, Mr Poke in Great Neck, Poketo in Merrick, and Island Poke in Garden City. Recently opened in 2019 was Chen's Poke, in Mineola, NY.
Pokeworks will soon open in Woodbury within the Woodbury Commons in a 1,250-square-foot location. The franchise owners commented that they believe the poke demand is stable as "It's a meal, not just a dessert or snack." We agree and predict that the trend of poke restaurants will continue to grow here on Long Island.