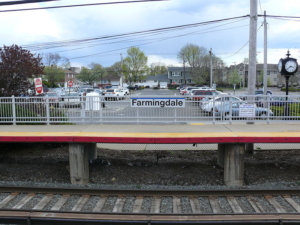 In this quarterly series, we examine Long Island towns exploring facts and demographics, real estate happenings, and recent or new changes.
About Farmingdale Village
Farmingdale is an incorporated village on the eastern edge of Nassau County located within the Town of Oyster Bay with a total of 1.12 square miles. It's centrally located along the Nassau/Suffolk County line. Settled in 1687, and incorporated in 1904, the village population now nears 10,000. The 2012-2016 government census reported nearly 3,500 households residing in the village with a median household income at $79,291. The report also states the median value of owner-occupied single-family homes at $375,000. Farmingdale's major roads include New York State routes 24 (Conklin Street), 109 (Fulton Street), 110 (Broad Hollow Road), and 27 (NY 27). The village is the site of a transit-oriented development centered around its LIRR station.
Farmingdale is also home to the State University of New York at Farmingdale. Opened in 1912 as Farmingdale State College as an agricultural institute, the University now includes nearly 8,000 students as a four-year baccalaureate-level college with highly competitive nursing and dental hygiene programs.
Recent Downtown Revitalization and Developments
In recent years, Farmingdale Village has undergone numerous revitalization projects and efforts. It is shaping up to become a great destination, with a downtown rich with ethnic culture and entertainment. Mixed-use developments built near the Farmingdale train station provide apartments with amenities and over 20,000 square feet of retail space. Other revitalization projects included a reconstruction of existing property into luxury apartments, and 3,000 square feet of retail space. This revitalization has enabled a new wave of businesses to open their doors in the village's downtown such as restaurants, retail shops, yoga studios, and more. The village is now home to more than 250 businesses.

Farmingdale – "The Best Downtown"
Voted "Best Downtown" by Bethpage Best of L.I. for the past four consecutive years, there is never a shortage of things to see and do in Farmingdale Village. One of the first things you'll notice when strolling Farmingdale Village is the rich culture combined with a unique and inviting atmosphere. With an array of boutiques, coffee shops, fine dining restaurants, pubs and music venues, tattoo shops, and everything in between, there is something for everyone.
Two brand new retail openings in Farmingdale include SoBol, a casual eatery focusing on Acai-bowls and smoothies, and Harleys American Grille, a "Steaks, Seafood, and Cocktails" dining experience.  The village is especially proud of its "Village Green". Located adjacent to historical Village Hall, the Village Green provides a park-like landscape where you can bring your own lawn chair, relax, and listen to live music, or enjoy an outdoor film during the "Movie on the Green" nights. Additional events and happenings that mark Farmingdale a great downtown is the Farmingdale Meat Market, long-seasoned Farmers Market, Farmingdale Music on Main (free live music on Thursday evenings during July and August), Columbus Day festivities, annual Holiday Parade and Tree Lighting, and much more.