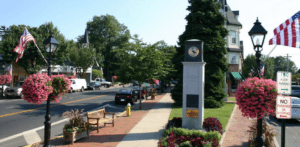 In this new quarterly series, we will examine Long Island towns exploring facts and demographics, real estate happenings, and recent or new changes.
Amityville Village Overview
Settled in 1657, Amityville is a waterfront village with a nautical-feel located in the town of Babylon in Suffolk County.  The 3.5 square mile village is bordered by North Amityville, East Massapequa, Copiague, and the Great South Bay.
Laced with picturesque boat-lined canals, Amityville has a population of over 10,000 and a median household income of $85,000.  The village is served by the Amityville Union Free School District, which also serves large portions of North Amityville and East Massapequa, and a small portion of Copiague.

Amityville Points of Interest
Although The Amityville Horror may be the first thing to come to mind when you think of the village, Amityville is well known for much more than the real life murder case turned book and subsequent film.  (The actual 3,600 square foot waterfront home recently sold for $605,000.)
Points of interest in Amityville include "The Triangle" which sits at the center of the village along Park Avenue and Broadway, the historical Lauder Museum, the Amityville beach, and Sand Island, which is a small island in the Great South Bay directly south and only accessible by boat, and many public parks.
New Town Developments
Amityville's downtown has a charming, small-town feel flanked with flower baskets hanging from old-fashioned streetlights.  The downtown, which has been improving steadily over recent years, has added many new businesses including eateries, pubs, and gourmet delis.
The village recently received an $80,000 grant for revitalization efforts along a section of Park Avenue, which will be used for new crosswalks, repaving, and other street-related improvements.

Although the village includes many vintage homes and properties, it has recently added much more housing options including gated condo developments and apartment complexes.  The village hopes to continue to add more apartments and transit-oriented housing that would appeal to younger residents as part of a downtown revitalization.
A proposed luxury apartment project would include 115 multifamily rental units consisting of studios, and one-bedroom apartments starting at $2,000/month, with high-end amenities such as a rooftop lounge.