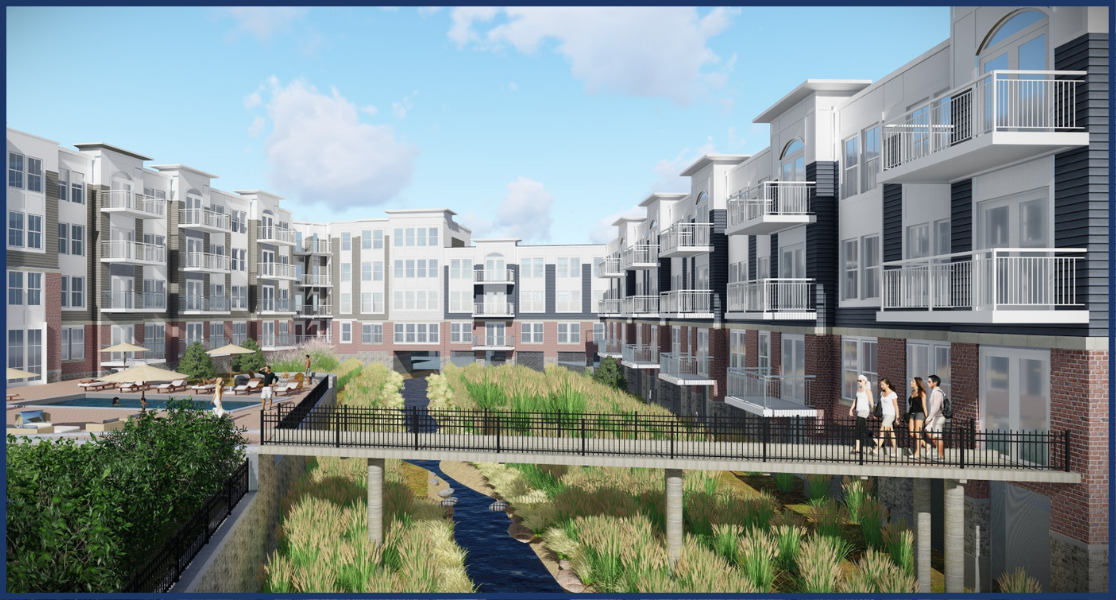 In October 2019 Suffolk County Executive, Steve Bellone, announced Lindenhurst will receive $350,000 from the county. This grant is to help improve walkability in downtown Lindenhurst.
This announcement comes around a time where Lindenhurst's downtown area is seeing revitalization and new developments such as 'The Wel'.

Walkability Study For Downtown Lindenhurst
The grant money comes from Jumpstart Suffolk. This group provides capital funds for planning and development of significant areas in downtowns.
Currently, there are no final plans on how to use the grant money. There are suggestions to add medians, bike racks, pedestrian warning signs, and car parking. Also suggested is to improve handicap accessibility and better signage for tourism.
According to Lindenhurst Trustee, RJ Renna, the goal is to make Lindenhurst more handicap accessible and attractive to all generations to come.
The Wel, New Lindenhurst Multi-Family Development
---
One development underway in Lindenhurst is 'The Wel'. The name comes from the 1800s real estate investor, Thomas Welwood.
This complex is a 260 unit, 4-story apartment building planned to open in 2021.
Tritec Real Estate, the development company in charge, finally began the project in October 2019. The project was proposed since 2014 proposal.
The apartment will be located at 75 East Hoffman Avenue. This is right across from the Lindenhurst LIRR Station, and near the downtown area.
The goal is to attract Millenials, empty-nesters, and other residents seeking easy access to public transportation. 'The Wel' will replace Lakeville Pace Mechanic on the 7 acre land.
Officials expect the $102.6 million project to finish in Spring 2021.
At this complex will be a mix of studios, one-bedroom, two-bedroom, and three-bedroom units. 26 of the apartments will be for workforce/affordable housing. There will also be over 370 parking spaces.
Tritec anticipates the new residents will contribute an annual $5 million to $7 million to the local economy.
Though the property faced some protests, Tritec's co founder, Robert Coughlan says, "Long Island needs a project like The Wel to keep our young, our seniors here on Long Island."
Is 'The Wel' Going to Revitalize Lindenhurst's Downtown?
According to Jo-Ann Boettcher, Lindenhurst Chamber of Commerce President, the new development is already attracting business.
"We have a lot of new businesses that have not only shown interest but have put in for leases on property in the village." said Boettcher.
Since last year there have been new business openings in the area.
Businesses include Sand City Brewing Co, 27a Brewing, WA Meadwerks, Villa Pizza, and Restoration Kitchen & Cocktails.
A lot of these new businesses are replacing long-time vacant storefronts and boxes.
There are more eateries and bars excited to join the trend. Soon to come are a Greek restaurant, SoBol, Bakuto, and more.
Real estate agents also noted they have received more interest in the area.

Conclusion
Lindenhurst has seen economic difficulties in the last decade after the recession. Both Hurricane Irene and Sandy devastated their shores. More recently, the COVID-19 pandemic has put a halt on many store openings and construction in the area.
Despite that, Lindenhurst Mayor, Mike Lavorata, says the local businesses are strong. He anticipates a strong rebound as Long Island continues it's reopening phases.
Lindenhurst has good things going. With the infrastructure grant from the county, development of 'The Wel', and new businesses in the area, a revitalized downtown is in its near future.
Sign Up For Our Newsletter
Don't miss out on the latest real estate news on Lindenhurst and on Long Island. Sign up here.