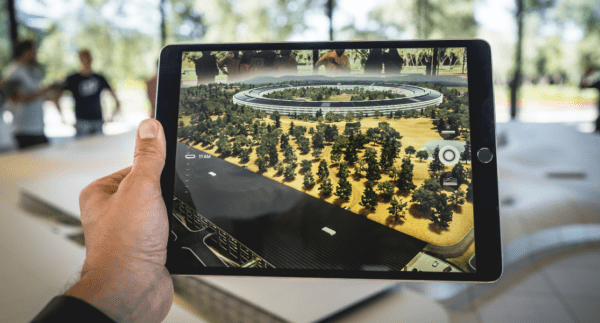 Technology plays a huge part in how we interact in both business and everyday life.  What was once clunky and difficult is now seamless, intuitive, and imperative to our daily operations. Augmented reality and virtual reality are two technologies that are now intertwined in how we market real estate to clients.
Virtual Reality & Augmented Reality in Real Estate
Virtual reality and augmented realities are two digital technologies that allow their users to experience and interact with real environments like they never have before. In real estate, these technologies allow buyers and sellers a new way to experience properties and improve customer experience, filling any gap in imagination that have been void.

How Realtors Can Use Virtual Reality
Virtual reality involves a computer-generated simulation of a 3D image or environment.  These environments exist within a semi-real or physical way by a person using special electronic equipment. Savvy realtors have moved beyond photos and 360-degree video and now have the ability to offer clients 3D virtual property tours. 
Matterport is a technology company creating 3D cameras and building scanners. They are a great example of a reality-capture system that gives you realistic interactive 3D experiences. Virtual staging is another benefit of virtual reality.  The National Association of Realtors conducted a home staging report and gathered that 77% of real estate agents agree staging helps in the buying process.
Architectural visualization, or architectural rendering, enables clients to get a feel for a space and understand the true design intent.  A great capability born from virtual reality for commercial real estate tenants is the ability to help landlords communicate better with tenants.  Virtual reality technology can provide tenants with virtual instructions via the use of VR headsets.
Here's an example of using virtual reality in a walkthrough or property tour:
Augmented Reality Enhancing the Real Estate Experience
Augmented reality, also called mixed reality, is an interactive technology allowing the experience of a real-world environment. Objects are "augmented" by computer-generated perceptual information across modalities including visual, auditory, and haptic.
This technology is now bigger than virtual reality and is becoming a critical part of the real estate industry.  In real estate, the digital technology of augmented reality allows users to see their surrounding world through a screen but with an extra layer of interactive information inserted into the vision – think self-guided tour and property walkthroughs.  

Augmented Reality & Commercial Real Estate?
Augmented reality has the ability to provide key information, including amenities, tenant industries, and vacancies, about commercial properties surrounding a given location using geo-location and image detection. GPS-based augmented reality has become very accessible with the use of smartphones.  When it comes to virtual staging, augmented reality goes beyond with the capability to stage a property with specific details that are unique to the potential buyer.
For example, if a buyer is looking at a commercial space for a restaurant, augmented reality staging can create a "digital restaurant" within that space enabling the potential buyer to envision the potential space.  Another great example is a company using augmented reality to see how much product they can fit into a particular part of a warehouse.
Conclusion
Digital technologies not only allow the real estate industry to streamline their operations and boost efficiency, but also allows for new marketing options but also a clearer understanding and stronger engagement.