As we look back and review the information that we've shared throughout the year, we consider the positive changes in the commercial real estate market and recall the various commercial real estate terms, industry speak, and Hot Topics that we've discussed. We also reflect on the influx of urgent care centers, Long Island's ever-changing downtowns, and remember all the tips that assisted us in becoming better leaders and professionals.
2016; Tips For Intellectual Thinking
2016 brought us many useful tips pertaining to Intellectual Thinking and Technology.  Using these tips, we crafted several articles intended on helping us to become more successful, balanced and less stressed overall.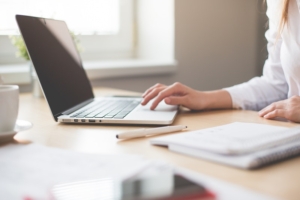 We kicked off the 2016 new year with an article containing tips on how to focus better in hopes of enabling you to achieve your New Year resolutions.  From there, we wrote an article outlining some of the habits and traits of successful leaders that help them achieve their goals both on a personal and professional level. Within that article lives a quote by the late Steve Jobs that reads: "For the past 33 years I have looked in the mirror every morning and asked myself: 'If today were the last day of my life, would I want to do what I am about to do today?'  And whenever the answer has been no for too many days in a row, I know I need to change something."  We hope this quote has inspired you the way it has inspired and stuck with us throughout the year.

In July, we brought you five tips that may help you find focus and remain calm during periods of frustration and. One powerful tip from that article reads: "Watch your body language.  Studies show that our body language doesn't just reflect our emotions; it can actually affect our emotions."  Physically displaying expressions of negative emotions such as anxiety or anger acts like a feedback loop, which in turn, heightens that emotion.  Be mindful of your facial and body expressions when finding yourself in a heated negotiation or important meeting where maintaining a calm demeanor is crucial.  By raising your self-awareness about your habitual facial and body expressions, you are more likely to diffuse any negative body language when finding yourself in times of pressure.
We next discussed ways to achieve a work-life balance; something that so many of us struggle with.  We learned that statistics show that when we are able to achieve a healthy work-life balance, we become much better leaders, employees, spouses, parents and friends.  By defining our own success, building strong support networks in and outside of the workplace, communicating our needs clearly and often, setting and respecting boundaries, and managing technology (i.e. turning that smart phone off and unplug for once!) we then find ourselves living happier, healthier and more productive lives.
We wrapped up 2016's intellectual thinking tips with 10 ways to minimize stress and anxiety so that you can thoroughly enjoy the holiday season.  By the time you read this, the holidays will be in full swing and you'll probably be feeling stressed and overwhelmed. If you have not yet read our article entitled "Enjoy the Holiday Season Without the Stress" you should absolutely do so!
Cloud Based Technology
On the technology front, we talked digital file storage and sharing.  Cloud-based storage and sharing sites enable you to access your files from almost anywhere with web access via Internet or Wi-Fi, quickly connecting you to your many files and allowing you to make changes and share with others.
Our top five round-up of our favorite cloud-based file storage and sharing sites are: Dropbox, Google Drive, Hightail-Spaces, onehub, and Sharefile. In that article, we also provided helpful information to assist you in discovering which site best fits you and your business needs.  Lastly, we talked TED Talks.  TED is a nonpartisan nonprofit devoted to spreading ideas, typically in the form of short, powerful talks. It was originally a conference where Technology, Entertainment, and Design converged, thus T.E.D.
TED began posting videos online of those presentations in 2006 and today, TED covers almost any topic you can name from science to business to global issues.  We listed seven of our favorite TED Talks along with the most captivating quote from each.  Warning:  we can't promise that you'll get any actual work done once you start watching as these TED Talks are highly addicting, fascinating, and interesting – the perfect thing to do over the holiday break.
Commercial Real Estate and Long Island
We had another good year for Commercial Real Estate and Long Island's markets.  Throughout 2016 we consistently provided you with market reports and updates that outlined Long Island as well as national market conditions.  In each market report we covered Long Island's (or the U.S. if the report was national) retail, office and industrial markets.  We broke this information down simply, by market, with a focus on reported vacancy rates, rental rates, and cap rates.  On a whole, Long Island's commercial real estate markets are thriving.  With mostly consistently raising rental rates and decreasing vacancy rates, 2016 was a solid year for commercial real estate on Long Island.
Eight of 2016's articles were dedicated to defining and breaking down CRE terms, industry speak, and hot topics.  An industry that remained the same by practice for so long is now changing with the impact of constant connectivity and innovative technology.  We hope you found all the information in these articles to be informative and insightful.

In January, we began with "Environmental Site Assessment, Phases I and II," where we provided explanations on what each of the phases are and the need for them.  We also discussed Commercial Real Estate Types and Categories.  Something that may sound simple can actually be far more complex than you may have realized, before you read our article, of course!  Typically, when people think of commercial real estate, they picture shopping centers, office buildings or warehouses.  However, the commercial real estate industry is much more detailed when it comes to defining property types.  For example, industrial real estate properties are not just that alone, there are four types of industrial real estate properties: heavy manufacturing, light assembly, flex warehouses and bulk warehouses.  To learn more about the in-depth descriptions of these property types, and others, check out our articles from July.
Hot Topic Real Estate Terms And Trends
This year we brought to you a new article series entitled "Hot Topic."  This bi-monthly series was developed to keep you up to date and informed by providing you with fresh real estate buzzwords or new topics that warranted your attention.
Our first Hot Topic was "Crowdfunding".  Crowdfunding allows people outside of the traditional investor groups and lenders to join in on the process by inviting them to pool their money together with other users. They then invest in real estate projects via internet-based investment platforms. With hugely innovative technology, these internet-based investments have the ability to be conducted more swiftly and more efficiently with greater transparency and access.  In that article, we also provided you with a fun fact: "Did you know that 3 World Trade Center skyscraper in New York City was opened up to investors via online crowdfunding? How interesting!
Next, we took a deep dive into our second Hot Topic: Omni-channel Retailing.  This phenomenon was created by merchants aiming to provide consumers with a seamless experience whether shopping online via desktop or mobile device or at a traditional brick-and-mortar location.  This forced many online/e-commerce retailers to rethink their online-only strategy realizing that physical shops are again a huge asset.
In our June Hot Topic, we broke down a term we often hear: Prepayment Penalty.  Also known as "prepay", a prepayment penalty is a clause in a mortgage contract that says if the mortgage is paid off within a certain time period a penalty will be assessed. This clause is viewed as an agreement between a borrower and a bank or mortgage lender that regulates what the borrower is allowed to pay off and when.  We discussed the two types of prepayment penalties: soft prepayment penalties and hard prepayment penalties.  As a borrower, it is very important to familiarize yourself with prepayment penalties and therefore, we hope you found this Hot Topic useful.
We additionally discussed two more terms pertaining to CRE: Caveat Emptor, a Latin term meaning, "let the buyer beware," reminding buyers to complete their due diligence when purchasing a property, and Defeasance, which is the standard alternative to traditional prepayment penalties.  Rather than being a true prepayment, defeasance is the substitution of securities collateral for real estate collateral.  Instead of paying cash to the lender, the defeasance option allows the borrower to exchange another cash flowing asset for the original collateral for the loan.
Long Island Seeing Many Positive Changes
Long Island saw many positive changes and happenings throughout 2015 and we brought you many detailed reports covering all things Long Island during the course of the year.  Early on this year, we crafted an article reporting on Long Island's falling gas prices dropping to less than $2.00/gallon in Nassau and Suffolk Counties in February.  This was the lowest since 2009.
Following that article, we rounded-up Long Island's new retail stores and centers that are breathing life into the L.I. retail market.  These openings included: Dick's Sporting Goods in Patchogue, The FRYE Company in Garden City, Kate Spade in Garden City, Lululemon in Riverhead, two Macy's Backstage stores (one in Huntington, and one in New Hyde Park), Neiman Marcus in Garden City, Starbucks in Farmingdale, Stew Leonard's in Farmingdale, and two Target small-format stores (one in Elmont, and one in Freeport).
In addition to the above retail openings, Long Island also saw a huge upward trend of Urgent Care centers in 2016.  We covered this trend in an article entitled "Urgent Care Centers Trending Upward" published in October.  From this article, we gleaned that there are currently over 110 urgent care centers on Long Island.  For an urgent care center to be successful, it needs to be located in heavily trafficked areas where the doctors can see around 40 patients a day.  Urgent care centers are most successful when there is a population density of 50,000 or more people.

Investors look for places where people are living their daily lives, which often brings them to strip centers with more day-to-day shopping offerings like supermarkets, coffee shops, and banks.  About half of current urgent care centers are freestanding buildings, and the rest are located in retail shopping centers.  We would not be surprised if the Long Island urgent care center count hits the 150 mark by the end of 2017.
This year, in June, we also discussed Long Island's downtowns and provided a breakdown of various characteristics, which make downtowns successful – ranging from physical characteristics, to business characteristics, to safety and more.  A downtown, comprised of things such as great dining, shopping, arts and culture, and recreation, attract residents as well as visitors which creates a thriving and exciting community.
Another article published in June that pertained to Long Island discussed the importance of Long Islanders being knowledgeable on the status of Long Island's economy and labor market.  In this article, we outlined Long Island's unemployment rate, which reportedly fell to 3.9% (April, 2016), which was the lowest level in nine years.  We also reported on the actual number of unemployed and employed Long Island residents.  By breaking down the job gains by sector, we were able to see which sectors provided the highest growth across Long Island.  This article helped us to understand the rates and statistics of our local economy further supporting the notion of a strong labor market and economic stability.
United States and Global Topics
Lastly, three articles were crafted this year relating to U.S. and Global Topics.  Each of these articles detailed the topic at hand with the focus of providing clarity around each.  In January, we published an article entitled "The Fed Finally Acts."  In this article, we discussed that roughly seven years after the Federal Reserve lowered the target for its benchmark federal funds rate to zero percent, an announcement was made by Fed Chairman Janet Yellen that the Fed had finally made the decision to increase the target for short-term interest rates to a range of 0.25% to 0.50% from a range of 0% to .25%.  This announcement, and therefore article, was significant in that although the interest-rate increase was small, it was the first increase since 2006 where the Fed held rates near zero for seven years.
The next article that we crafted detailed 'Brexit' and its potential impact on U.S. commercial real estate.  In this article, we learned that with uncertainty to be the prevailing mood for the U.K.'s commercial real estate markets and for those who've invested there, forecasters in the U.S. expect to see increased interest in U.S. real estate investments from overseas as this uncertainty continues to grow over changing British and European economies.
The U.S. commercial real estate market could see an influx of capital investments from the U.K. and from other countries whose investors may pull capital investments out of U.K. properties, thus the U.S. commercial real estate market could greatly benefit from foreign investors seeking a safe-haven.  We then continued to discuss that even before Brexit, U.S. commercial real estate has continued to be an attractive investment option for foreign investors.  With demand pushing commercial real estate valuations up, the U.S. is considered the number one destination for foreign capital.  We closed this article listing some of the reasons why investing in U.S. commercial real estate is a wise decision.  These included the availability of financing, the high quality of the property, the high levels of investor control and the strength of our economy.
Our last article pertaining to U.S. and global topics was a non-partisan look at how the 2016 election could potentially impact the U.S. commercial real estate market.  The actual presidential elect may not ultimately have a significant effect on the real estate industry, but the economy and stock market are key concerns affecting property market fundamentals and real estate investment trusts.   However, it is likely that market volatility may subside as time goes by as some major uncertainty is removed.  While elections are times of uncertainty, which can lead to volatility in broader stock markets, we understand that the commercial real estate market is susceptible to hundreds of different components both domestic and global, all of which are in constant flux, affected by countless contributors.
We concluded that regardless of the presidential outcome, the U.S. property market landscape in 2017 will be characterized by continued strong fundamentals, increased investor flows and high transaction volume.  As for the economic landscape, the U.S. continues to grow moderately and add jobs across all sectors.  The U.S. employment gains continue to be strong with unemployment dropping below 5.0% earlier this year, and adding to its demand for property in a variety of forms including office space, retail and industrial/distribution facilities.
Our sincerest Thank You for taking the time to journey with us this year while we expanded our learning and knowledge on the above topics and more.  2016 has been a great and prosperous year for us here at American Investment Properties and we hope the same is true for you.  We look forward to sharing more useful information, tools, and terms with you throughout 2017 as we continue to bring you our monthly Koenigsberg Long Island Bulletin.
 From our team to you and yours, have a Happy and Healthy New Year.