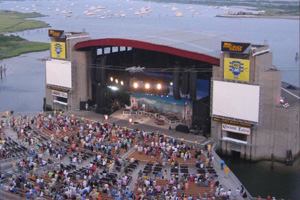 A true Long Islander believes that our beaches are some of the best in the world.  But our island is not only known for its gorgeous landscape, we also happen to have a great array of theaters and venues which serve to entertain not only us as Long Islanders, but people from all over.  In fact, Long Island has always been known for its rich heritage of performing arts and culture.  All across Long Island are theaters that are home to performing arts such as ballet, classical music, spoken word, art, and of course theatrical performances such as plays, musicals, concerts, special performances, and more.  From major productions featuring well-known stars and full orchestras, to intimate one-man shows, the theatres of Long Island are home to every kind of artistic production one can imagine.  In this article we will touch upon some of Long Island's great theaters in order from Western Long Island, Nassau County moving towards Eastern Long Island, Suffolk County.
Landmark on Main Street – Port Washington
232 Main Street, Port Washington, NY 11050
Opening its doors in November 1995, Landmark on Main Street, Inc., is the product of more than ten years of visionary planning and dedicated work by the citizens of Port Washington.  It developed out of a commitment to preserve an historic landmark and to enhance community life.  Landmark's centralized location and proximity to public transportation (on a major bus route and within walking distance from the LIRR Port Washington station) makes it accessible to teens, non-driving adults, seniors, and visitors.  Landmark is known for having a diverse calendar of events ranging from speaker series, old and independent films, music shows, stand-up comedy, etc.  A few events planned for spring and this upcoming summer are: American in Paris (film), Rhiannon Giddens (roots rock), and Tom Arnold (Landmark Laughs – Comedy).
NYCB Theatre at Westbury – Westbury
960 Brush Hollow Road, Westbury, NY 11590
With a rich and storied history beginning in 1956, NYCB Theatre at Westbury is recognized by audiences and performing artists as one of the most comfortable and acoustically-inviting theatres in the greater New York metro area.  Originally known as the Westbury Music Fair, many historic and memorable shows have been held at Westbury over the years.  They include performances by Judy Garland, The Who, Bruce Springsteen, Tony Bennett, Tom Jones, Diana Ross, and many more. Now owned by Live Nation, the NYCB Theatre at Westbury continues to present the best live entertainment including the top names in contemporary pop, classic rock, comedy, country, and R&B.  The NYCB Theatre at Westbury presents a broad range of performers geared to every entertainment taste and interest.  Shows scheduled for this spring and upcoming summer include: The Price is Right – Live Stage Show, Bob Saget, The Beach Boys & America, and many more.
Nikon at Jones Beach Theater – Wantagh
1000 Ocean Parkway, Wantagh, NY 11793
Opened in 1952 as the Jones Beach Marine Theater, the venue originally had 8,200 seats and hosted musicals.  Now, Nikon at Jones Beach Theater is an outdoor amphitheater located at Jones Beach State Park in Wantagh, New York, and is one of the two major outdoor arenas in the New York metro area.  Important to note, in October 2012, Hurricane Sandy caused major damage to the theater – various structures were destroyed and much of the lower part of the arena was flooded, including the lower section of seats which were flooded more than half way up.  The Nikon at Jones Beach Theater reopened on May 31, 2013, after over $20 million was spent on reconstruction.  Known as one of Long Island's "summer hotspots" Nikon at Jones Beach Theater holds many shows during the warmer months.  To name a few of the upcoming shows, Nikon at Jones Beach Theater kicks off summer on Memorial Day Weekend with their annual Jones Beach Air Show featuring the U.S. Airforce Thunderbirds.  Other shows planned for this summer include, Dave Matthews Band, Tim McGraw, Van Halen with David Lee Roth, Jimmy Buffett & The Coral Reefers, and many, many more.
The Paramount – Huntington
370 New York Avenue, Huntington, NY 11743
As the newest theater on this list, The Paramount opened in September 2011 and is centrally located in the lively town of Huntington.  Featuring concerts, comedy, boxing, and other special events, The Paramount is the 12th highest attended venue worldwide.  Since 2011, The Paramount has held over five hundred ticketed events – a huge accomplishment.  With a private, members-only "Founders Club", The Paramount has successfully differentiated itself in the theater/venue industry.  Upcoming events include: Michael Bolton, Lyle Lovett, The Paramount Comedy Series Presents: Cheech & Chong, Slayer, Melissa Etheridge, and tons of others.
Patchogue Theatre for the Performing Arts – Patchogue
71 East Main Street, Patchogue, NY 11772
With a mission for the Patchogue Theatre serve as a cultural center for Long Island, the theatre is a full-time mixed-use venue offering a variety of events including live performances, films, educational presentations, commercial productions, community forums, and other events.  As one of Suffolk County's largest theaters, the Patchogue Theater's events and efforts support the positive revitalization of Downtown Patchogue.  With a full roster of upcoming events, you can catch one of the following this spring and upcoming summer: The Led Zeppelin Experience, Assisted Living: The Musical How The Older Half Lives, Let's Swing: The Artie Shaw Orchestra, 2016 Miss Long Island & Miss Long Island Teen Pageant, and plenty more scheduled.
The Suffolk Theater – Riverhead
118 East Main Street, Riverhead, NY 11901
The 350 seat Suffolk Theater is a unique Art Deco theater located in the historic Downtown Riverhead.  Initially opening its doors on December 30, 1933, according to reports, more than 2000 people attended the opening night festivities and called the theater "Long Island's prettiest and most complete playhouse." Operating from 1933-1987 the theater was considered a lively attraction to Downtown Riverhead.  However, because of the downward shift in the economy the theater closed in 1987 and was for sale until 1994 when the Town of Riverhead purchased the theater.  The theater, although owned by the Town of Riverhead, sat idle until 2005 when private owners purchased it.  Since then, the theater has been meticulously restored and transformed into a flexible use performance space and special event facility, complete with a state-of-the-art lighting and projection system.  Officially opening its doors to the public in March 2013, the setting currently boasts a cabaret- style/dinner theater environment along with the ability to also offer a section of more traditional theater style seating, if necessary.  There are two Art Deco bars, designer restrooms, a VIP suite, and a full chefs kitchen.  The Suffolk Theaters restorations are sure to bring a lively crowd to Downtown Riverhead and support its revitalization efforts.  Upcoming events include: Spring Burlesque, That 70's Band, Dead on Live – 50th Anniversary Grateful Dead Tribute, Late Night Catechism (musical), and Psychic Kim Russo: The Happy Medium.