With the real estate industry ever-changing and flexing, there seems to always be a new topic or point of discussion within the CRE world. An industry that remained the same by practice for so long has begun to change with the impact of constant connectivity and innovative technology. Cue our new article series: Hot Topic. Bi-monthly, we will discuss in depth a real estate buzzword or topic that often draws our client's attention. In this article, we will be discussing a new way to raise capital, Crowdfunding.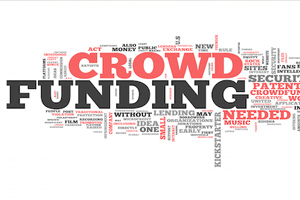 Crowdfunding has become something of a buzzword among investors these days and it's been particularly well received in the real estate sector. It is rapidly reshaping the way individuals find and invest in properties. This shift has brought benefits not only for investors, but also for real estate companies and for the real estate market as a whole.
Crowdfunding allows people outside of the traditional investor groups and lenders to join in on the process by inviting them to pool their money together with other users to invest in a real estate project via internet‐based investment platforms. With hugely innovative technology, these internet‐based investments have the ability to be conducted more swiftly and more efficiently with greater transparency and access.
In the aftermath of the 2007/2008 global financial meltdown, the public's faith in traditional institutions became unsteady and the rise of crowdfunding became increasingly attractive. Investors have become more conscious with how they spend and invest their money, and crowdfunding provides opportunities suitable even during recession periods. The advent of crowdfunding has definitively changed real estate investing in more ways than one and the effects have been largely positive.

Traditional Real Estate Investment Methods
In the pre-crowdfunding era, investing in private real estate was all about who you knew. This was coined the "country‐club" model. Under the traditional country-club model, investors must solely rely on their own networks to access quality real estate investments. To participate, the minimum needed to invest was at least $50K-$100K.   The problem is, most investors just don't have that level of access or don't want to put such a large sum of money into a single property.
To add to that, previously investors might have gone into a deal with very little information about the property in question and would be forced to partake in their own due diligence process.  Crowdfunding platforms, on the other hand, generally operate by offering investors as much detail about an investment as possible. Property investments are typically vetted beforehand and investors have a broad range of information available to help guide their investment decisions.
The 'Pro's' of Crowdfunding
Crowdfunding eliminates most of the barriers or difficulties involved with traditional real estate investing.  Real estate is time consuming, expensive and requires skill and local knowledge. Crowdfunding not only provides a level of access and transparency that has never before been possible for real estate but also greatly reduces the time and capital requirements needed to invest.
Through crowdfunding, instead of having to rely on connections to pinpoint real estate deals, investors can access these deals from the convenience of their laptop or tablet. In addition to better access, to invest in these pre‐vetted deals via crowdfunding platforms, it is also possible to begin investing with little as $100.
The industry continues to evolve and the latest development has been the redefinition of who can invest in crowdfunded real estate deals. Up until recently, only accredited investors who had a net‐worth of $1M or more or earned $200K a year were able to invest through crowdfunding platforms. However, that has changed and widened the crowdfunding scale to include millions of new investors.
Although real estate investment involves risk and the potential for loss is always a key concern, crowdfunding means less risky, smaller dollar investments in projects of choice or interest.
Real Estate Crowdfunding Websites
Projected to hit the $3.5 billion mark in 2016, there are currently over 100 active and successful crowdfunding platforms, and as non‐accredited investors begin making their way into the market, existing crowdfunding platforms will face competition from newcomers as companies attempt to respond to increased demand.  Here's a look at some of the most well-known crowdfunding websites:
RealtyShares provides accredited investors access to nationwide real estate investment opportunities. Investors can browse opportunities by asset type or geography and can pool their money with other investors to purchase shares in these opportunities for as little as $5K. Investors also have access to a dashboard where they can monitor their investments, returns and tax documents.
RealtyMogul allows accredited investors to pool their resources and buy shares of investment properties. Accredited investors must income at least $200K per year or have a net worth of more than $1M. Eligible investors browse through real estate investment options online and track their various investments with the Realty Mogul dashboard. Typical investments on this platform are apartment buildings, office buildings, retail shopping centers, self‐storage facilities and pools of single‐family homes.
RealCrowd gives accredited investors access to the sort of investment options that are typically only available to real estate management companies. These are deals that without the service provided by real estate crowdfunding, most investors would very likely never know about. Properties on RealCrowd are geographically diverse and are generally worth more than $10M. Most properties tend to be office buildings or apartment portfolio complexes.
Groundfloor bills itself as a "peer-­‐to-­‐peer" real estate lending marketplace.  Unlike the other platforms listed here, non-­‐accredited investors can participate on the platform. While investments on platforms such as RealtyMogul.com and RealCrowd begin at $5K, investments with Groundfloor start at $100. Open to participation by everyone regardless of wealth or income, there is more opportunity to create a mass product available to all.
Fun Fact
Did you know, 3 World Trade Center in New York City was opened up to investors via online crowdfunding?
For more Hot Topic articles, sign up for our monthly newsletter.