There is no doubt about it: urgent care centers are a growing trend here on Long Island and across the U.S.  Currently, there are over 110 urgent care centers on Long Island according to a database maintained by the Urgent Care Association of America.  Demographically, 75% of urgent care centers are located in sub-urban areas, 15% in urban areas, and 10% in rural areas.
Urgent care, a category of walk-in clinics that treat nonlife-threatening ailments and injuries requiring immediate attention, brought in an estimated $16.2 billion in revenue in 2015, and is expected to grow to $19.7 billion by 2020.  
What makes urgent care centers so popular among patients is the convenience and lower costs than alternatives.  Driven by patient demand for faster access to treatment, urgent care centers help eliminate the burden by offering an alternative to hospital emergency rooms and doctor's offices, as urgent care centers offer a shorter waiting period and a more comfortable setting.  Further, in many cases, it can be difficult to schedule an appointment with a primary care physician with little to no notice.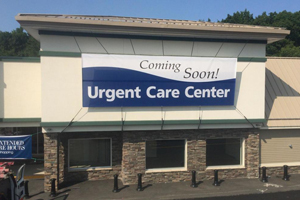 85% of urgent care centers are open 7 days a week, and 95% offer extended hours closing after 7pm, and require no appointments.  Most centers have small diagnostic labs, and come equipped with costly technology such as X-ray machines.  The average cost of a visit to an urgent care center was $150 to $200 in New York State last year, according to an estimate from the North East Regional Urgent Care Association, (NERUCA).  The most common diagnosis in an urgent care center was reported to be an upper respiratory condition and the most common procedure was wound repair.  Typically, less than 5% of all urgent care patients need to be transferred to an emergency room.
National health care reform has boosted patient demand for urgent care clinics, which are increasingly meeting the health care needs of the influx of newly insured patients.  Long Island's urgent care chains are expanding, planning in some cases to double their size in the upcoming future.  Long Island's urgent care centers have at least doubled within the past decade.
Large chains such as GoHealth Urgent Care, ProHealth Urgent Care, StatHealth, PM Pediatrics, CityMD, and American Family Care all plan to open new centers this year.  Urgent care centers have proven to be an attractive investment opportunity.  Enabling urgent care's explosive growth, experts and executives said, is an influx of private capital from investment groups.
For an urgent care center to be successful, it needs to be located in heavily trafficked areas where the doctors can see around 40 patients a day.  Urgent Care is most successful when there is a population density of 50,000 or more people.  These groups look for places where people are living their daily lives, which often brings them to strip centers with more day-to-day shopping offerings like supermarkets, coffee shops, and banks.  About half of current urgent care centers are freestanding buildings, and the other half are located in retail shopping centers.
As we look at the current state of the job market, the upward growth in these centers across the U.S. has added to the positive climate of the U.S. Health Care sector over the recent years.  It is the only major employment sector that didn't experience a net job loss during the steep recession.
Health care, with its wide range of wages, from highly paid doctors to lower-wage home health aides, gained the most jobs of any other sector since the recession and proved to be the most consistent job generator for several years.  Urgent care centers staff a wide range of jobs including diagnostic clinicians, medical assistants, and administrative personnel.