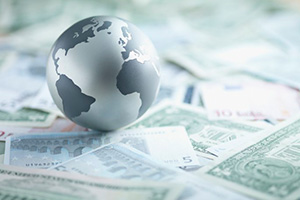 The International Monetary Fund (IMF) has cut its projections for U.S. economic growth for 2017 and 2018.  The IMF now forecasts the U.S. GDP growth to be 2.1% this year, instead of the 2.3% forecast in April.  GDP growth for 2018 has been revised to 2.1% from 2.5%.
However, the IMF still forecasts the world economy to grow 3.5% this year and 3.6% in 2018; the same projection it made in April.  How does this work?  Well, as IMF reports state, "The unchanged global growth projections mask somewhat different contributions at the country level."  This remark mostly refers to the U.S as several European countries (i.e. Germany, France and Italy), China, Japan, and Canada are propelling the global economy forward with growth higher than initially forecasted.
The primary reason for the downgrade is the IMF's assumption that the U.S. government's fiscal policy won't be as growth boosting as previously expected, being called "less expansionary."  The IMF cited uncertainty about President Trump's policies as a major factor behind the more cautious growth outlook for the U.S.
Trump came into office six months ago on the promise of major infrastructure spending, tax cuts and looser regulation. However, his proposed policies have been bogged down in the U.S. Congress while the administration continues to fight battles on other fronts such as healthcare reform.  In fact, some of the proposals for spending cuts in the Trump administration's budget could make things worse and lower the GDP growth rate even further.
While the IMF pointed to uncertainty surrounding U.S. fiscal policy to be the primary reason for the downgrade, another factor for the slashed forecasts was due to the U.S. economy's slow start of 1.4% this year.