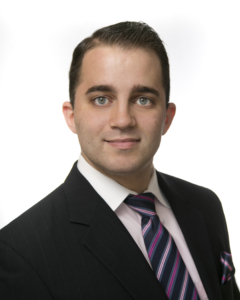 As you know, here at American Investment Properties, we are always looking to add to our team of talented Real Estate brokers and agents. With a singular commitment to our client's objectives, our team dedicates all energies and resources to helping business owners and investors successfully navigate the unique challenges and opportunities of the Long Island commercial real estate market. In order to deliver on our strong and powerful commitment, we hire diverse personalities each armed with true talent and dedication enabling us to succeed with you, and for you.
Meet American Investment Properties' newest hire: Michael Musto, Sales Agent.
Where did you grow up?
I am a born and bred Long Islander from Massapequa Park, Nassau County.
Where did you go to college and what did you major in?
I began my college education at Nassau Community College where I received my Associate Degree. I then enrolled in SUNY Old Westbury and majored in Politics and Economics.
What made you want to become a commercial real estate sales agent?
I knew I wanted to be part of something bigger, and have a strong belief that I would be successful in the Commercial Real Estate industry. The aspect of making constant connections drew me in. I enjoy facilitating those connections and creating something larger for investors.
How did you hear about a career opportunity with AIP?
I first learned about American Investment Properties through a good friend who is a Commercial Real Estate owner and investor. From there, I did my research and learned via their website that AIP was hiring, so I reached out and was invited to come into the office for an interview.
What does it mean to be a sales agent specifically for American Investment Properties?
I think being an agent at AIP is unique in that because of the smaller, more intimate setting you are able to be involved in many different deals and work directly with the President, Ron Koenigsberg. Having the one on one face-time with Ron is invaluable and allows me to learn firsthand how to be successful.
What is the most challenging part of your role as Sales Agent at AIP?
The nature of the business comes with a self-imposed pressure to be successful and make the right connections. At times, it can be stressful and overwhelming to navigate the waters of facilitating these connections.
What are your future career goals?
My near-future career goals are to continue to work alongside of Ron and to assist investors in buying and selling commercial real estate. For my far-future goals, I aspire to become a commercial real estate owner and investor.
If you weren't working in Commercial Real Estate, which industry do you think you would have liked to work in?
I've always had a passion for stock and bond trading so I would have likely explored a career in that type of investment industry.
Name two of your favorite things about working at American Investment Properties…
1. I really enjoy the small setting feel of the office but also love AIP's large presence.
2. My second favorite thing about AIP is that I am able to work so closely with Ron.
Name one thing you would change about American Investment Properties…
American Investment Properties currently specializes only in the buying and selling of commercial real estate on Long Island. The only thing I would change about AIP is that I would like to have a larger focus on leasing.
1. My family
2. My dog
3. Lasagna!