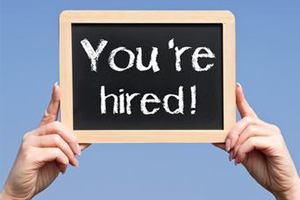 Long Island's unemployment rate holds steady at 3.9%, suggesting full employment.
A study released by the State Department of Labor shows that the unemployment rate on Long Island has remained steady over the past year.  Some local economists believe the rates are steady because Long Island has reached full employment – meaning that the jobless rate is about as low as it will go.  Full employment is classically defined as an unemployment rate of 4% or below.  An area's unemployment rate never goes to zero because people are always transitioning in and out of jobs.  And others may have trouble finding work because they lack a particular skill.
On Long Island, Suffolk County has had a higher rate of unemployment compared to Nassau County.  In Nassau County the number of employed residents increased from 670,200 to 670,700 residents in the past year.  In Suffolk County, the number of employed residents also increased from 743,200 to 742,800.
Long Beach City and North Hempstead Town had the lowest rates in Nassau at 3.4%, while Smithtown had the lowest rate in Suffolk at 3.5%.  Freeport Village has the highest rate in Nassau at 4.9%, followed by Hempstead Village at 4.7%.  Southampton Town had the highest rate in Suffolk at 4.7%, followed by Riverhead and Babylon Towns at 4.3%.  As for the state, New York State's unemployment rate is 4.2% and the national rate is reported at 4.1%, both well above Long Island's rate, but also near historic lows.
Over the past year, the number of private sector jobs on Long Island increased by 11,100 or 1% to 1,136,800 in April 2017.  Ambulatory health care services, which is growing at a rapid pace in the region, added 1,500 jobs in April, five times the average gain of 300 and reaching a record level of employment.  Leisure and hospitality also had a strong month adding 6,400 jobs, compared to an average of 3,900.  Four of nine private industry sectors gained jobs in April compared to a year ago – educational and health services (+8,100), trade, transportation and utilities (+3,200), professional and business services (+2,500), and leisure and hospitality (+1,400).  The government sector gained 2,900 jobs within the past year.