Across Long Island, gas prices have tumbled to less than $2.00 per gallon, reaching lows many people never imagined would return.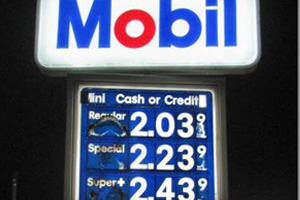 Local drivers are paying less at the pump leaving more money in their pockets. AAA, which tracks daily gas price averages across the U.S., stated that the last time gas prices fell to under $2.00 per gallon in Nassau and Suffolk Counties, was January 2009.  For Nassau and Suffolk Counties, the current average is $2.00 per gallon with the lowest current gas price is $1.75 per gallon.
The oil industry is currently at its lowest point since at least the 1990's. The current drop is attributed largely to basic supply and demand. Production in the domestic U.S. has increased in recent years and greater competition from Asian markets has forced the biggest overseas suppliers like Saudi Arabia to lower prices.
Increased demand and reduced supply often leads to upward swings in the price of gas, and historically, as a result, averages have climbed higher during the months of February through August. However, unlike previous years, both gasoline and crude oil supplies are at record levels and two of the nation's more volatile markets, the Midwest and the West, are both reporting ample supply. These factors together point to a possible shift in the "norm" provided that crude oil prices remain relatively low and without any major disruptions in supply or production.
Gas prices are down in nearly every state versus this week last year. Drivers in the majority of states continue to pay gas prices below $2.00/gallon. Oklahoma ($1.42) and Missouri ($1.43) are the nation's least expensive markets and a total of 30 states are averaging at or below $1.75/gallon. Hawaii ($2.63) leads the market with California ($2.50) coming in second. Regional neighbors Alaska ($2.34), Nevada ($2.20) and Washington ($2.09) join the rankings and round out the nation's top five most expensive markets for gas. Today's national gas prices average at $1.728/gallon. Last month they averaged $1.977/gallon, and this time last year were reported at $2.177/gallon. Today's gas prices for Long Island (Nassau and Suffolk Counties) average at $2.016/gallon.  Last month they averaged
$2.213/gallon, and this time last year were reported at $2.410/gallon.
According to the NYS Energy Research and Development Authority, the average price of gas in New York State peaked in May of 2011 at $4.09/gallon. To fill up a car with a 17-gallon tank at the May 2011 rate, it would cost $69.53.
However, if someone were to fill up his or her vehicle's gas tank at the current Long Island average rate of $2.00/gallon, it would cost $34.00.  That's a weekly savings of
$35.53. AAA stated that based on seasonal trends, the national average price of gas could continue to drop another 10 cents per gallon over the next few weeks before it starts to rise again late this winter. Although, gasoline demand typically begins to increase starting in February, reaching its peak in August, AAA also added that they do not expect the nation average price of gas to rise above $3.00/gallon in 2016.
Our fingers are crossed!
For more articles on topics pertaining to Long Island, N.Y. Subscribe to our monthly newsletter.